LIRL – Lenux Integrated Resources
Lenux Integrated Resources is an Arm of Lenux Holdings focusing on downstream Oil & Gas and holds a strategic ownership of Eterna PLC and McNichols PLC.
Eterna Plc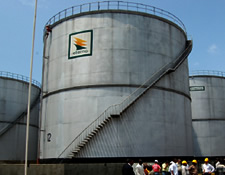 Eterna Plc is an integrated, dynamic and fast growing energy company. The company is engaged:
In the manufacturing and sale of lubricating oils,
Importation and bulk/retail sale of petroleum products including

PMS, AGO, LPFO,
base oils,
bitumen and export of lubricants/fuels,

Bunkering,
Gas distribution and marketing (LPG and LNG),
Offshore and Onshore oil services,
Gas processing,
Equipment supply services and other engineering and technical services for the energy industry
McNichols Plc
McNichols commenced operations in 2005 as a manufacturing, packaging and distribution company. The company focus is to develop innovative food products to meet certain needs and yearnings in the marketplace, improve the hygiene, nutrition and quality of food products in the Nigerian market and environ and offer economical pack sizes to enable affordability and improve the economic wellbeing of the consumers. McNichols is introducing a new range of cereals, powdered milk and other related food products in order to consolidate its strong positioning in the FMCG industry in Nigeria and West Africa.